---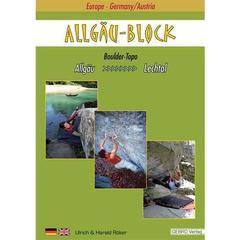 Allgau Block Boulder-Topo
---
In the last few years more than 700 new boulder problems have been done in the this area from grade Fb 2 - 8b/b+ (bloc) and up to 8c (trav), in 23 areas from the Lake Constance to Oberallgäu, the region around Füssen to the Lech-valley - a bouldering region of interest for boulderers of all grades!
Almost unique is the different rock types you can find here, and all close together. As well as the high percentage of conglomerate-walls and boulders, you can also find sandstone and limestone in different variations - from ordinary limestone to super rough high-mountain-limestone at 2200m above sea level.
You also have walls, boulders, circuits (with numbers like in Fontainebleau), jugs, micro-edges, slabs, enormous overhangs.... in short a complete playground for all. And not to forget - all these in one of the most beautiful holiday-regions of Germany!
The countryside of the Allgäu region in south-west Bavaria is dominated by the majestic Alps, the highest mountains within Europe, and numerous lakes. From east to west, the Allgäu includes parts of the Ammergebirge mountains, the Allgäu Alps and Bregenz Forest.